This post is also available in:
Français
Financiers are a small classic French almond cake served with tea or coffee. It is a delicious treat made of white eggs, ground almond, icing sugar, flour, and brown butter.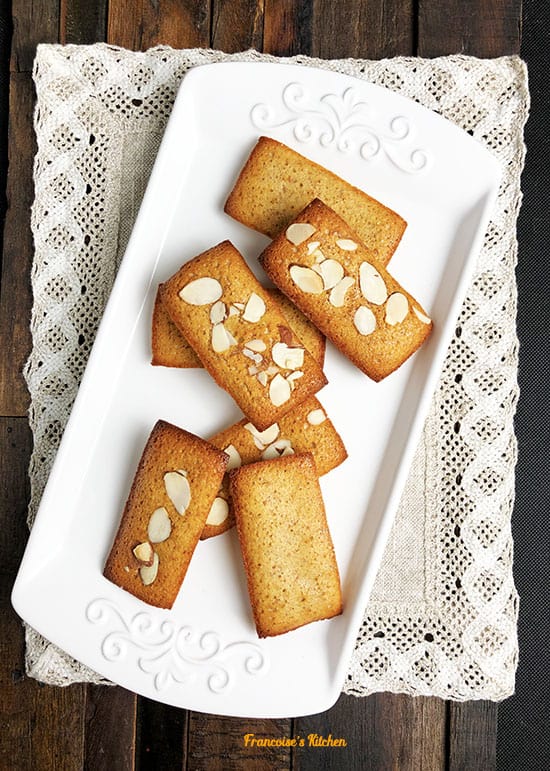 But why it is called Financiers?
They originate from sisters of the Visitandine Order, who made small oval cakes with almonds, flour, sugar, butter, and egg whites in 17th century Nancy (an eastern city in France's Lorraine region). At this time, these cupcakes were called "Visitandines".
At the end of the 19th century, the pastry chef Lasne brought back the Visitandines. His store was near "La Bourse" (stock market in Paris), and his customers were mostly financiers (businessman) wishing to eat a small cake on the go without getting their fingers dirty.
Lasne had the idea to change the Visitandines' original oval shape into that of a gold ingot, as a nod to his customers. And thus, the Financiers were born!
Financiers are also a great way to recycle leftover white eggs. If you do not have the rectangular molds, you can use muffins or madeleines pans, but you will need to adapt the cooking time.
I chose to publish this classic recipe from French Chef Lenôtre because this is our family's favorite one. It has a pleasant almondy taste with a crunchy outside, yet a soft inside. I just tweaked the amount of sugar and reduced the temperature, as it was a little too high.
French Almond Financiers
Ingredients
170

g

butter

(I recommend Plugra)

5

egg whites (155 g approximately)

190

g

powdered sugar

(I reduced the amount of powdered sugar 250 g to 190 g and added 1 tablespoon of honey)

1

tablespoon

honey

135

g

finely ground almond

55

g

all-purpose flour

butter to grease financier's molds

about ⅓

cup

sliced almonds (for topping), (optional)
Instructions
In a small saucepan, melt the butter. Cook until it stops bubbling and takes on a light golden color with a nutty smell (be sure to not overcook it!). At this point, you will have a butter called "beurre noisette" in French cuisine, also known as brown butter. Put in a bowl and set aside.

Meanwhile, in a big bowl, mix well the powdered sugar, almond ground, and all-purpose flour with a spatula. Mix in the egg whites well, always using the spatula (do not whisk too much the eggs white! We do not want to incorporate too much air in it). Then add the warmed "beurre noisette" until everything is well incorporated and the mixture is smooth.

Grease well the financier molds or muffin pans with butter. Fill each mold ⅔ of the way with a spoon or a pastry bag. Add a few sliced almonds (optional) and lower your oven to 430 F when putting your financiers in it. Bake for 4 minutes, then 380 F for 4-6 minutes for a crunchy outside and soft inside (be careful during the last minute; their edges can burn very quickly).

Remove the financiers from the mold while still hot and put them on a wire rack.

You can eat them at room temperature or store them in an airtight container in the fridge for up to 6 days.
Notes
Adapted from French Pastry Chef Lenôtre.