This post is also available in:
Français
I really like fruit tart desserts, and this simple French Prune Plum Tart is a memory from my childhood…
All these beautiful purple prune plums we found at the market remind me of the time I went to pick them up in my grandparents' garden or my aunt's orchard in the Eastern part of France. In my region, we called them "quetsches" and they are a little smaller compared to the ones in the USA.
I wanted to once again taste this French Prune Plum Tart that my mother made us and that we ate for "le goûter" (snack time) when we came back from school or sometimes for a Sunday dessert.
This pie is really simple. The prune plum is the star and makes it delicious with a little tartness. I just recommend putting a mix of almond ground on the crust, so that is not too soggy.
It is better to wait until the tart is at room temperature before cutting it so that the juice is a little thicker and not too runny. Feel free to add a little more sugar to your taste before eating it.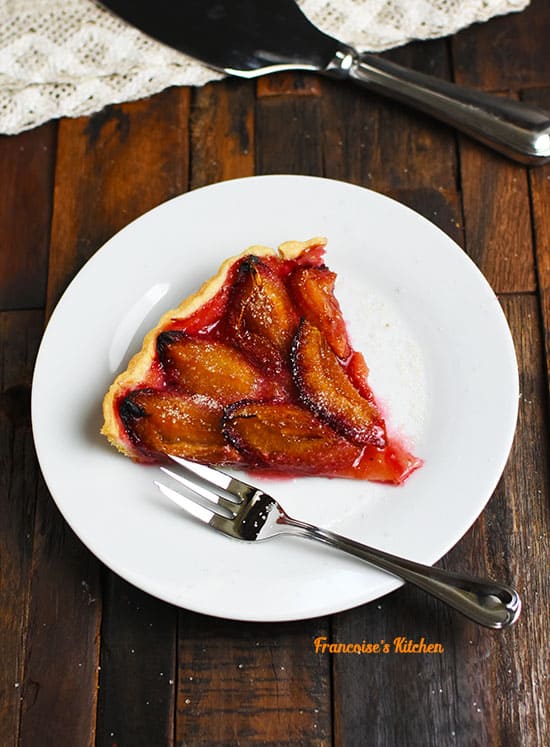 Prune plums have a high content of potassium, vitamin K, and C and are a great source of dietary fiber.
MORE FRUIT TARTS IN SEASON YOU MIGHT LIKE:
French Prune Plum Tart
A simple tart of my childhood where the prune plum is the star! Delicious with a little tartness.
Ingredients
1

pâte brisée (pie crust)

600

g

prune plum

(oval purple prune type)

1½

tablespoon

almond flour

(for the bottom)

2

tablespoon

sugar

(on the top)
Instructions
Unroll the pie crust and precisely fit it in a tart pan (9-inches). Poke the dough all over with a fork. Then put the pie in the fridge.

Wash the prune plums and dry them well. With a sharp knife cut the prune plum in half, pit them, and if they are too big, split them again in half lengthwise. Set aside.

Remove the tart pan from the fridge. Spread the almond flour evenly on the bottom of the pie.

Place the prune plums (cut side out) in concentric circles all the way around, facing toward the center. Sprinkle about 2 tablespoon of sugar on the top.

Put in the oven for 30 to 35 minutes or until the crust is golden and the plums begin to caramelize.

Remove from the oven and cool on a wire rack until it reaches room temperature. Serve with extra sugar if desired.