This post is also available in:
Français
Monkfish Curry in Coconut Milk is a delicious fish dish, quick and easy to make any time.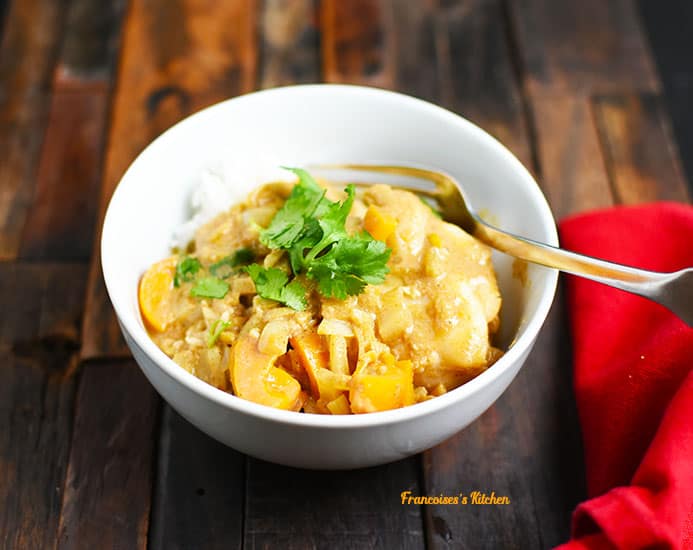 But do you know the fish called Monkfish?
Monkfish is not the prettiest fish. Because of its enormous spiny head and scary teeth, people have called it frog-fish, toad-fish and even sea-devil. But do not judge a book by its cover! Indeed, the fish is better known for its flavor than appearance.
Monkfish flesh is delicious, lean, thin, and without fishbones. It is sometimes compared to lobster, hence the name of "poor man lobster".

Over the years, I have been looking for some in Atlanta with no luck. Finally, I was surprised to find some at my Costco for a good price.
For my recipe of Monkfish Curry in Coconut Milk, it was also the occasion to use a sample of Maharajah curry (handcrafted spice blend all-natural, organic, fair trade) that Seasonality Spices asked me to try.
The first thing that my family noticed about this Maharajah curry is its very aromatic fragrance. I just put 2 Tbps of curry because I did not know about the heat and it was just right. Usually, I use 3 tablespoon of yellow curry paste for this recipe. My dish was really tasty! I recommend anyone to try this Maharajah curry.
Monkfish Curry with Coconut Milk
Ingredients
2

lbs

Monkfish fillet, cut into chunks

2

onions

1

bell pepper, diced

1

apple, shredded or small pieces

2

cloves

garlic

4

fresh tomatoes, peeled, seed removed, diced or 1 cup of can diced tomatoes

400

ml

coconut milk

2-3

tablespoon

curry powder or curry paste

2

kaffir lime (optional)

½

lime juice

1

pinch

cinnamon

1

pinch

ginger

salt, pepper

1

bell pepper, diced

few sprig of fresh coriander

1

tablespoon

oil
Instructions
In a saute pan, heat the oil, brown lightly the onions, bell pepper, apple, and garlic.

Add the spices (curry, cinnamon, ginger). Cook 1 to 2 minutes, stirring to blend. 

Add the tomatoes, the coconut milk. and kaffir lime (optional). Bring to a light boil then simmer about 10 minutes.

Add the pieces of monkfish in the coconut milk. Season with salt and pepper, mix gently, cover and let simmer on a low heat for 10-15 minutes or until the fish is cooked through but still tender. Remove kaffir lime.

Squeeze the lime juice

over the top and garnish with freshly chopped coriander. Serve immediately with some rice.