This post is also available in:
Français
Osso Buco, which means "bone with a hole", is Italian comfort food. This Milanese dish is made with braised veal shank in a base of carrots, celery, onion, white wine, and tomato sauce.
In France, I often used to eat some veal. But these days finding veal in the U.S. seems harder than it should be in a grocery store… and it is also expensive. For this recipe, I replaced veal with some turkey thighs.
With my Instant Pot, the Turkey Osso Buco is tender and tasty in just less than one hour. If you do not have Instant Pot do not worry, you can make this recipe on the stove by following the steps of my recipe (see notes*). It will just take more time to cook.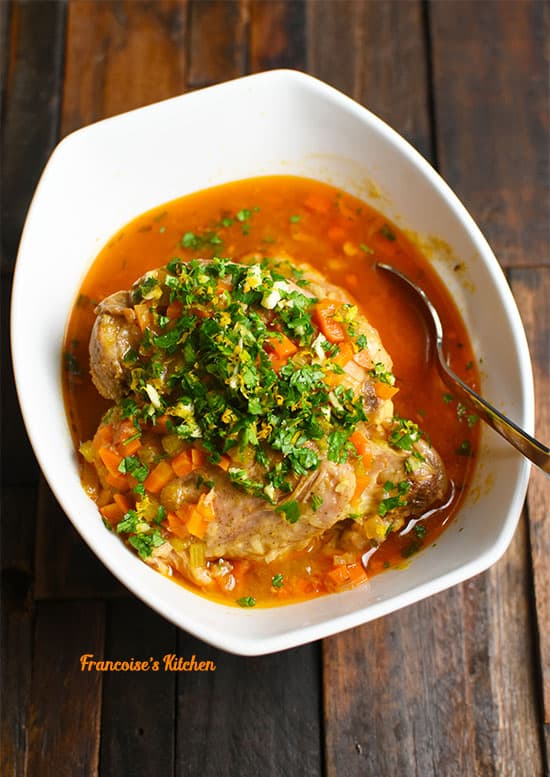 How do you serve Turkey Osso Buco?
Traditionally, a gremolata, a simple mixture of Italian parsley, garlic, zest of lemon, or orange is added on top of the meat to brighten the dish.
A saffron risotto or creamy polenta is the classic accompaniment. But pasta or mashed potatoes goes well too.
More recipes with Instant Pot or Pressure Cooker:
Turkey Osso Buco in Instant Pot
A tasty Italian dish in an instant!
Ingredients
2

pounds

turkey thighs

at room temperature, trimmed (skin and fat removed)

1

onion

minced

2

carrots

diced

1

celery stick

diced

2

garlic

diced

3-4

sprigs

thyme

1

bay leaf

2

tablespoon

tomato paste

½

cup

white wine

1 ¼

chicken broth

2

tablespoon

olive oil

divided
For the gremolata
¼

cup

Italian parsley

1

lemon zested

organic

1

orange zested

organic

1

garlic

diced

salt, and pepper

to taste
Instructions
Pat the turkey thighs dry with paper towels and make sure it is at room temperature. Salt, pepper each piece on both sides, and lightly coat with the flour.

On the Instant Pot, press the saute button, and adjust the heat to medium. Put 1 tablespoon olive oil. When it is hot, brown the meat on both sides (about 3-4 min. by side) and transfer the turkey to a plate.

Add 1 tablespoon of olive oil. Saute onion, carrot, celery, and garlic until tender (about 4 min.). Add the wine scraping off any brown bits from the bottom and cook for 2 min. Stir in the tomato paste and cook for one minute. Pour the chicken broth, stir well, place the turkey back in the pot with the thyme, and bay leaf.

Secure the lid and verify that the pressure valve is closed. Cook for 30 minutes at high pressure. Naturally, release the pressure for 10 minutes, then open the valve to release any remaining pressure.

Meanwhile, make the gremolata for topping the osso buco. In a small bowl, mix the chopped parsley, garlic, zest of lemon and orange (optional), a pinch of salt and pepper. Set aside.

Remove the herbs from the Instant Pot. Transfer the meat into a bowl. Taste the sauce and add more seasoning if needed. Pour the sauce over the meat and top each thigh with gremolata.

Serve with mashed potatoes, pasta, polenta, or with Minalese risotto.
Notes
Stovetop Recipe to follow in the case you do not have an Instant Pot or Pressure Cooker:
Use a dutch oven or a big saute pan with a lid. Follow all the directions 1 to 4.
Cover and cook on low heat for 1 ½ hours until the meat is tender.
Then follow the steps 6 to 8.