This post is also available in:
Français
Ratatouille is a colorful summer dish from Provence (southeastern France) made of eggplant, zucchini, bell peppers, tomatoes, onion, garlic, herbs, and a drizzle of olive oil.
I always make this authentic recipe of Ratatouille, but it takes quite some time because each vegetable cooks separately before being tossed together.
Recently, I tried this Easy Oven-Baked Ratatouille. The preparation is quicker because you just need to cube all the vegetables, toss them with herbs and olive oil on a baking sheet, and stir them occasionally. This way, they can cook slowly and evenly for about an hour and voilà!
In the end, the result is delicious. The vegetables are very tender and hold their shapes.
This Easy Oven-Baked Ratatouille is the perfect accompaniment for grilled meat, fish, and sausage. However, you can also it is as a main course.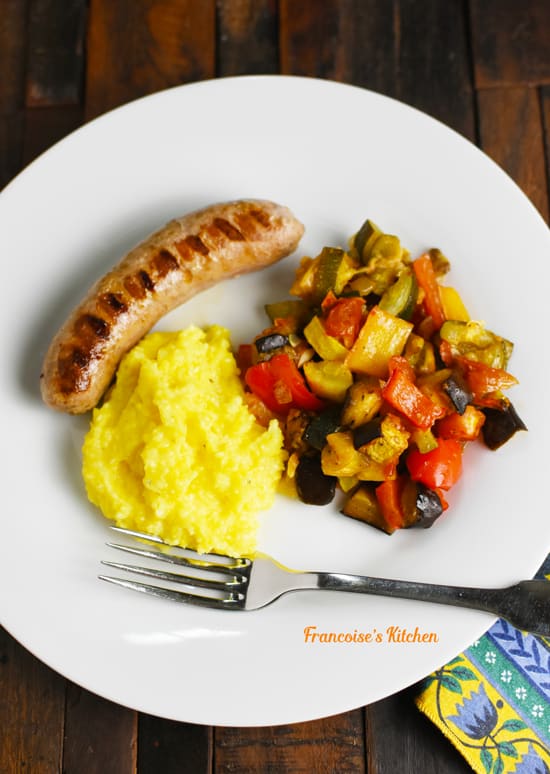 And if you have some leftovers, don't worry! I enjoy using them in a tart such as this Ratatouille and Anchovy Tart.
OTHER SUMMER DISHES YOU MIGHT LIKE:
Easy Oven-Baked Ratatouille
My easy way to make ratatouille a colorful classic French summer dish!
Ingredients
2

medium

eggplants,

cubed

4

medium

zucchini (or a mix of zucchini and yellow squash)

cubed

3

medium

bell peppers (use a different color),

cubed

2

medium

onion,

diced

4

garlic cloves,

peeled and finely diced

1

lbs

tomatoes,

cubed

3-4

sprig of thyme,

2

bay of leaves,

2

1-inch

snips of rosemary (optional)

salt, pepper,

olive oil
Instructions
Cut all the vegetables (eggplant, zucchini, bell pepper, tomatoes, onions) so that they are approximately the same size and can cook evenly. Transfer them on a large rimmed baking tray. Add the garlic and herbs (thyme, bay leaves, and rosemary (optional). Sprinkle enough salt, pepper, and olive oil to enrobe them. Mix with your hands and spread them evenly on the baking sheet. It might seem crowded but they will shrink while cooking.

Put the baking tray in the oven for 15 minutes. Lower the temperature oven to 375 F for another 15 minutes. Then lower the temperature oven to 350 F for the rest of the time (about 30 more minutes). I recommend stirring occasionally (every 15-20 minutes) to ensure the vegetables cook evenly. In the end, they must be very tender and hold their shapes.

Before serving, remove the herbs and add some basil to garnish (optional).