This post is also available in:
Français
For dinner, I made this simple and delicious French Leek Zucchini Ham Quiche. I love to make savory tarts or quiches because they are easy meals that are always welcome at my table. A green salad on the side is a perfect accompaniment.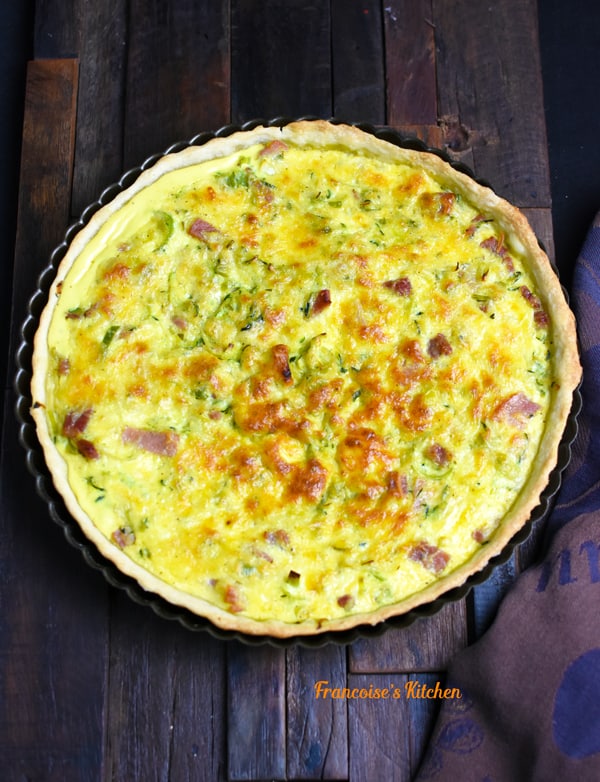 Quiche is a versatile dish; you can make it with whatever you have in a fridge. There are so many combinations to try with different veggies, spices, meat, or fish.
I added one shredded zucchini in my French Leek Zucchini Ham Quiche to have more vegetables. In my filling, a touch of nutmeg gives more flavor, and the Curcuma a nice color.
I have a fondness for leek and its subtle taste resembling onions and garlic. A few years ago I made this type of quiche with the leek for a celebration at my son's school. The director asked me what was the little thing that I put in it to make this quiche so tasty.
In cooking, the white and light-green leek is often used in different recipes because it is more tender. However, don't throw away the dark green part (more fibrous): you can use it with thyme, bay leaf, celery… to create a bouquet garni which adds flavor to broths or soups.
How to easily clean leek:
Remove the first outer leaves
Cut the root and the top of green dark leaves
Split lengthwise
Under the running water, wash to remove all traces of soil in between the leaves, especially the outer ones. The center ones tend to be cleaner.
Cut the white and light green part finely. Keep the dark green part in your freezer for other recipes.
MORE IDEAS FOR SAVORY QUICHE OR TART'S RECIPES:
French Leek Zucchini Ham Quiche
This French quiche made with leek, zucchini, and ham is a classic in my home. A green salad is a perfect accompaniment for this tasty, balanced, and delicious dish.
Ingredients
Easy homemade Olive Oil Crust:
200

g

all-purpose flour

1

pinch

salt

4

tablespoon

olive oil

¼

cup

water
To make the quiche:
2

leeks (only the white and light green part)

washed and minced

1

zucchini (medium)

grated

1

tablespoon

butter

100

g

cooked ham (Black Forest or your favorite)

diced

2

eggs

200

ml

milk (whole or 2%)

100

ml

heavy cream or crème fraiche

50

g

Gruyère, Comté, or Jarslberg cheese

grated

⅛

teaspoon

nutmeg

¼

teaspoon

turmeric

salt (not too much because of ham)

black pepper
Instructions
To make the homemade Olive Oil Pie Crust:
In a medium bowl, mix the all-purpose flour and salt by hand. Add the olive oil, mix, and gradually add the water until the dough does not stick to your hands.

Cover the dough with a dish towel or plastic wrap and let sit for 30 min.
To make the quiche filling:
In a saute pan, melt butter at low heat, add and cook leek and zucchini until soft (10 to 15mn). Add a little a bit of water if needed, do not burn). Add the ham with the veggies and cook for 5 min. Set aside.

Grease a tart pan (11-inch).

Lightly flour a flat surface and a rolling pin. Roll out the dough and precisely fit it in a tart pan (11 inches). Poke the dough all over with a fork. Then put the pie in the fridge until ready to use.

In a medium bowl, whisk together, the eggs, milk, cream, salt (not too much because of ham), pepper, nutmeg, and turmeric.

Take your tart pan from the fridge. Evenly place the mixture of leek and ham. Sprinkle the cheese on top of the veggies. Pour the egg mixture into the tart.

Bake at 380 F for about 25-30 minutes or until browned.