This post is also available in:
Français
Monkfish in Armoricaine (or American) Sauce is a classic from French cuisine. The monkfish (known as the "poor man's lobster") is flamed with cognac and simmered in a tomato sauce with white wine, shallots, garlic, and herbs.
In some recipes, a fresh fumet (made from bonefish, head, or shell), fish stock, or lobster bisque can be added to the dish with a final touch of butter or cream.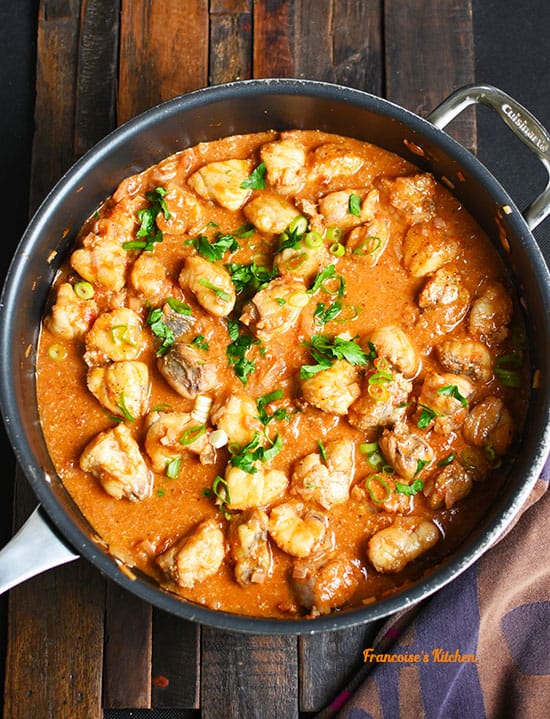 Armoricaine Sauce (a derived name from Côtes d'Armor, the North of Brittany, France) also is known as American Sauce and served with lobster or firm white fish.
But why do we also call this American Sauce? 🧐
For the little story, the origin of the term "American" comes from Pierre Fraysse (nicknamed Peters), a French cook of Sète (South East of France).
When he returned from America where he was a chef at a restaurant called "Peters" in Chicago, he founded the restaurant "Peters" in Paris.
One evening, shortly before closing, guests arrived and insisted on dinner. Peters, therefore, went back to his stove, but he didn't have the time and the ingredients. So he decided to cut the lobsters into pieces so that they would cook more quickly. He added these to a sauce made of tomatoes, garlic, shallots, white wine, and cognac. The meal was a real success and when asked the name of his recipe he called it "American lobster", influenced by his trip across the Atlantic.
The name "American" applied to lobster is often controversial. Many hold "Armorican" as the only valid name, especially due to the fact that Brittany is a big producer of this crustacean.
But if we look more closely at the composition of the sauce (tomato, garlic, and olive oil), it resembles a dish more from southeastern France than from Brittany.
What to serve with this dish?
Steamed vegetables or rice pairs well with my Monkfish in Armoricaine (or American) Sauce.
MORE MONKFISH RECIPE YOU MIGHT LIKE:
Monkfish in Armoricaine (or American) Sauce
An easy version of a classic from French cuisine in which monkfish is flambéed in cognac and simmered in a tomato sauce with white wine, shallots, garlic, and herbs.
Ingredients
2

lbs

monkfish

cut into chunks

1

cup

tomato

diced

1

tablespoon

tomato paste

1

bouquet garni (1 bay leaf, parsley, thyme)

3

shallots

diced

1

clove

garlic

200

ml

white wine

50

ml

cognac (a small bottle from a liquor store)

2

tablespoon

butter

2

tablespoon

olive oil

salt

black pepper

1

pinch

cayenne pepper

Italian Parsley

finely cut

1

stem

scallion

finely cut
Instructions
Pat the monkfish cubes dry. Season lightly with salt and pepper.

Into a sauté pan, heat the oil and butter over medium-high heat. Brown the monkfish cubes on all sides.

Add the cognac and light it with a flame and flambé. Take the pan off the heat, and remove the fish. Set aside.

Put the saute pan back on medium heat, and add the shallots and garlic. Cook until soft and stir often. Add the diced tomatoes, the tomato paste, the white wine, bouquet garni, cayenne pepper, salt, and pepper. Bring to a light boil and let simmer gently for 20 to 25 min or until the sauce is reduced and its flavor is concentrated.

Put the monkfish back into the sauce, cover, and cook gently for 10 min or until the fish is cooked through but still tender.

Remove the bouquet garni. Sprinkle some parsley, scallion, and served with some steamed vegetables or rice.